It's that time of year again. Yep, the Victoria's Secret Fashion Show. Can I just say I LOVE it? Remember a few years ago, when the whole VS Angel thing came about, and it was all the rage and completely awesome?
Yeah, that was the year I became hooked. I can't remember exact time frame, but it was like the first or second show that they started televising or something like that. The one where Heidi was modeling like 30 seconds after she had a baby and her hubby Sea Lion was singing. Girlfriend comes out in an outfit that LIGHTS UP with GIANT wings and she blows a kiss to her man and then struts off down the runway, with no jiggle to be found.
This defines badass you guys. You see, famous people? This is why you get stalkers. You cannot be completely awesome like that and expect the crazies to stay away. We cannot help it. She rocked it. Then there was one year where they were all dressed in santa-y outfits or something and my girl Alessandra comes out in all the pink and stuff. I pretended I was her for the rest of the year.
(Not that this is important, but I think you should know I have that exact bra, and yes, that is exactly what I look like in it. Just like the picture. Just saying…)
And what about the year when JT was on there, and he was singing SexyBack and Giselle was all doing her little turn on the catwalk. She totally brought it back you guys.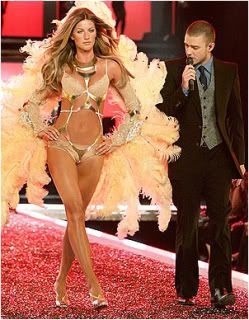 Anyway, I know a lot of people are all omg-how-can-you-watch-its-so-demeaning-to-women-and-so-slutty-and-omg-it-just-makes-me-feel-so-bad-about-myself-blah. My response? Get over yourself. They're not naked or being all whorish down the runway. It's fun and pretty and sparkly and not much different than girls walking around in bikinis. It makes me proud to be a girl. Every single one of us likes to dress up pretty and feel girly, and let me tell ya, if somebody wanted to do my hair and makeup all awesome and pay me a bazillion dollars to walk down a runway in my underwear, point me to the push up. Quit taking everything so serious.
As much as I love it, I have to admit this year was a little disappointing. It was just plain dull. They have all these new girls that act weird and honestly, several weren't that pretty. One girl looked like a mad Clydesdale. Plus, their little outfits are getting more "fashiony" which just doesn't work with me. Like one girl comes out in this beautiful pink set and a big, metallic (literally – a piece of metal) belt like thing around her waist. Um, ok? I guess scrapyard ladies need underwear too. Plus, some of the obvious freshman would walk out and do that whole "come on make some noise" things with their hands. Okay, now we all know that most of these models are like 13, but seriously, this is not a pep rally. And the runway didn't go out into the crowd like it usually does with people sitting on each side. It was just a long stage that they walked back and forth on. Not fun. And they didn't walk on sparkly diamond things that kicked up everywhere when they walked. Safe? Yes. Entertaining? No. Only highlight was Heidi rocking the sparkly red angel wings, but when you look close, they aren't really wings. It's a big, red Christmas bow. Okay, I'm going to need one of those in EVERY color.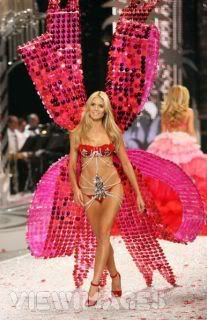 Oh, and Usher performed some ridiculously unsexy song. "Girl, I'm going to deliver you like a FedEx box." What do you say to that? Um, thank you? Sorry, Ush. Even you're not smooth enough to pull that line off. Oh and BEST part of the whole night…the commercials. There is one where a bunch of the girls are all running around through this English manor place and across the lawns in the gardens and whatever, wearing red bras and these crazy, big, red, tulle skirts . Then while they're in the house, they're all throwing this pink and red gift box to each other. Oh haha, you're tossing me the gift now! Oh, hee hee, now I'm throwing to you from the balcony! Hooray! You caught it! (Also this is all in slow mo which is supposed to make it romantic or dramatic or something?) Okay so the hilarious part? I swear to you this gift box is the same one that Mother Nature gives that girl on vacation in the Tampax commercial. Marketing must be running low on funds this holiday season.